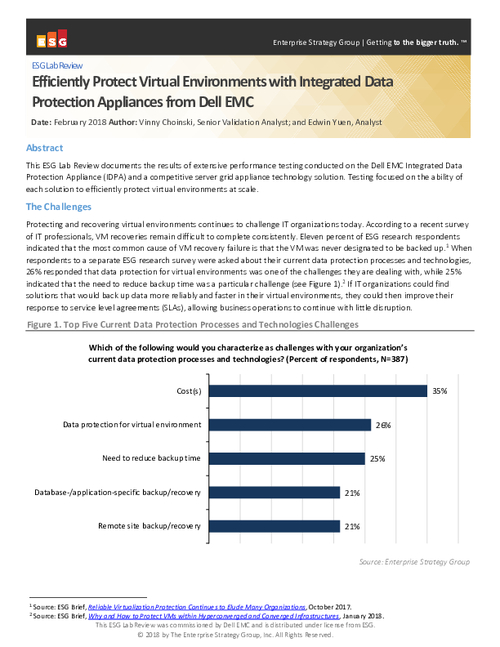 This ESG Lab Review documents the results of extensive performance testing conducted on the Dell EMC Integrated Data Protection Appliance (IDPA) and a competitive server grid appliance technology solution. Testing focused on the ability of each solution to efficiently protect virtual environments at scale.
Protecting and recovering virtual environments continues to challenge IT organizations today. According to a recent survey of IT professionals, VM recoveries remain difficult to complete consistently. Eleven percent of ESG research respondents indicated that the most common cause of VM recovery failure is that the VM was never designated to be backed up. When respondents to a separate ESG research survey were asked about their current data protection processes and technologies, 26% responded that data protection for virtual environments was one of the challenges they are dealing with, while 25% indicated that the need to reduce backup time was a particular challenge.
Download this whitepaper to learn more about:
Test Environment
Testing Methodology
Recovery Performance
Disclaimer: Dell Technologies, Dell, EMC and Dell EMC are trademarks of Dell Inc. or its subsidiaries. Other trademarks may be trademarks of their respective owners.